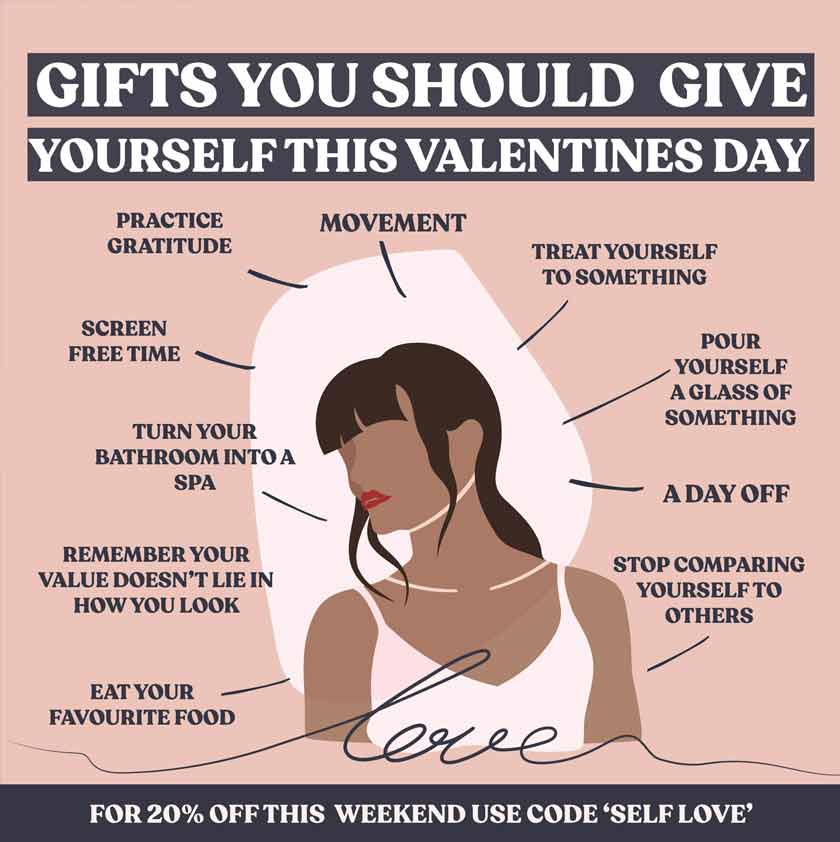 This Valentine's day let's think of self love and a chance to spoil yourself! Whether you have a significant other or not, let's find ways to show ourselves a little appreciation this 14th of February.
Here are 7 gifts you should give yourself this Valentine's Day
Wake up. Look on your phone. Log on to your laptop. Work. Look at your phone. Work. Oh Instagram notification. Work. Scroll through Tick Tock. Whatsapp group chat. Work. Watch Netflix. Bed.
Did I just describe my day there?
I think pretty much everyone could benefit from an hour (or more!) off a screen. Run a deep, warm bubble bath and just switch off from the world for an hour. Alone with your thoughts or a good book. You won't regret it!
2. Eat your favourite food
Food makes us feel good. Nutrients in food can even influence the feel good hormones, dopamine and serotonin.
Too often you might deny yourself that food you like because it is too calorific, too expensive, takes too long to prepare.
This Valentine's Day enjoy a meal that you love.
Whether it means a little cooking therapy or a takeaway, enjoy your favourite food. 
If you are working, book the day off. If you are not, then treat yourself to a day off household chores.
Chill out doing whatever you love the most.
4. Turn your bathroom into a spa
Light some candles, turn down the lights, lock the doot, put a spa playlist on Spotify, put a few drops of lavender in your bath and create your own spa!
Grab your book, place a few drops of Our Remedy's Pretty Peaceful in a herbal tea and enjoy ultimate relaxation!
Treat yourself to some nice skin care products. Maybe it's a natural facemask, or maybe the kit to give yourself a pedicure.
Take your time, just as you would if you had a beautician appointment. Paint your toes, wax, give yourself a manicure, pluck your brows. 
Walking at a brisk pace is going to get your heart rate up and those feel good hormones flooding through your body.
Particularly when you take your red nose home to a warm house and a cup of supercharged hot chocolate!
Give yourself the gift of movement this Valentines day. Whether it is a walk outside, a living room stretch or yoga session.
Whatever movement you decide to do, choose something that makes you feel refreshed and God damn fantastic. 
6. Buy yourself something
Sometimes you need a little retail therapy. Maybe you have had your eye on someones Instagram shop for a while or you quite fancy a subscription to something.
Now is the time to give yourself a gift!
Bonus points if you can get it delivered in time to open on Valentines Day! 
7. Pour yourself a glass of something
Pour yourself a tall glass of something this Valentines Day.
Maybe it is a glass of your favorite red wine, or a dash of Baileys over ice.
Or maybe you feel like getting that cocktail shaker out from the back of the cupboard and whipping up an espresso martini.
If you don't drink alcohol then experiment with a virgin cocktail or a warming hot chocolate with cream and mallows (if you do drink, pour your shot of baileys in this – trust me. Game changer.)
If you struggle with sleep its best to avoid alcohol at bedtime, instead go for a herbal, caffeine free tea with a few drops of Our Remedy to send you off into a wonderful sleep. 
There you have it.
7 gifts to give yourself this Valentine's Day.
Remember,
"Love starts with you."