If you're going on holiday, travelling or maybe even moving overseas, you will want to know, can I take CBD abroad.
Unfortunately, just because you're going on holiday it doesn't mean you'll be period pain or anxiety free – particularly if you are a nervous flyer…
Your cycle will go on whatever time zone you might be in. This will mean that you'll be likely to want to pack your CBD oil.
You might want the cannabinoid not only for period pains but travelling through time zones may impact your sleep, not to mention nerves caused by going on planes or boats.
In this blog, we will answer all your questions on taking your CBD abroad.
Can I use CBD on the plane 
If you use CBD tincture drops, such as Our Remedy, then you will be able to take it on the plane. However, if you vape CBD e-liquid then you will not be able to do this as use of electric cigarettes is forbidden on planes.
You might find that using CBD before your plane journey helps you to relax. If you are heading on a long flight then you might need a top-up mid-flight. For nervous flyers or someone who finds it hard to relax or snooze on a flight, then a dose CBD might be just what you need. 
Why might you take CBD abroad
If you have been using your CBD daily to help balance hormones, level out anxious feelings or control period pains, then going without it for your holiday might feel impossible. 
Is it legal to travel with CBD?
You'll be glad to know that taking CBD abroad is legal. Only as long as you are travelling to a country where CBD is legal. If you are moving between the UK and Europe you shouldn't have any problems.
What countries should I not travel with CBD oil
Always check individual country laws before you travel with your CBD to ensure you won't get pulled up for it. Some countries which you shouldn't travel with CBD as its is illegal  include:
Dubai and Arab countries 
Southeast Asia 
South Korea 
Japan 
Russia 
USA (some states)
These countries have laws on CBD which make it strictly illegal. You will be unable to buy the cannabinoid when you are there and shouldn't have it on your person. Penalties for having CBD will vary from country to country.
Why is CBD illegal in some countries 
It isn't worldwide that CBD is accepted as an alternative remedy for ailments and conditions. Some countries still have it as a classified drug because of the connection to the cannabis plant.
CBD will not have any mind-altering effects as it doesn't contain the psychoactive cannabinoid THC. Our remedy CBD is broad-spectrum meaning it contains 0% THC but maintains terpenes and flavonoids to enhance its effects.
Some countries allow you to take hemp-derived CBD, that contains 0% THC. However, you need to make sure you know the rules for your destination before you travel. For some countries, CBD is illegal to buy and possess.
Is it legal to take CBD in public abroad
If you are in a country where CBD is legal, then you can use it in public. If you are vaping CBD then make sure you only vape where smoking is allowed, otherwise, you may end up with a fine.
How to travel with CBD
If you are travelling by plane, and CBD is legal in your destination, then you can take it in your carry on or hold luggage.
Make sure you pack your CBD oil in a clear plastic bag and that it adheres to the under 100ml rule. Our Remedy is in a 10ml bottle, making it the perfect CBD for travel! Make sure the lid is on properly to avoid oily leaks.
If you are going by bus or train, then store your CBD oil in a waterproof container, wash bag  or re-useable plastic bag to avoid any spills.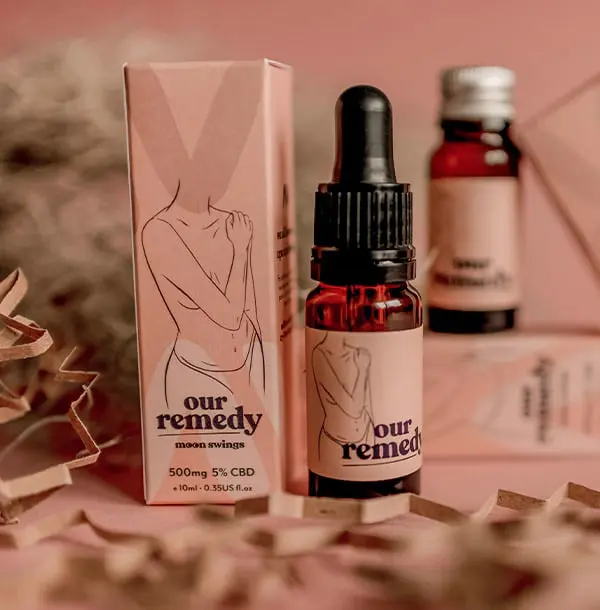 Our Remedy CBD Moon Swings
Introducing Our Remedy's hero product, Moon Swings. Teaming CBD with peppermint and clary sage not only gives this wellness elixir a wonderful and refreshing taste but it may also soothe menstrual symptoms such as period pain, mood swings, hormone imbalance, anxiety and sleep disruptions. We truly understand all of the ups and downs that our time of the month can bring…