Is there is a lady in your life who has everything causing you to struggle year in and year out? We think you'll like the sound of our best gift for women. If she's never tried it, then she'll love it. If she has it already, then she'll still love it. Sounds great, right?
OurRemedy CBD oil is made specifically for women. It has various benefits for a woman of any age, making it the perfect gift this Christmas.
What is Our Remedy CBD?
Our Remedy is a female-focused, female-led CBD oil. The cannabinoid may help women who suffer from period related problems, such as cramps, mood swings, headaches, insomnia and more. However, it also may help reduce symptoms of menopause, with its ability to reduce hot flashes, improve mood and balance hormones.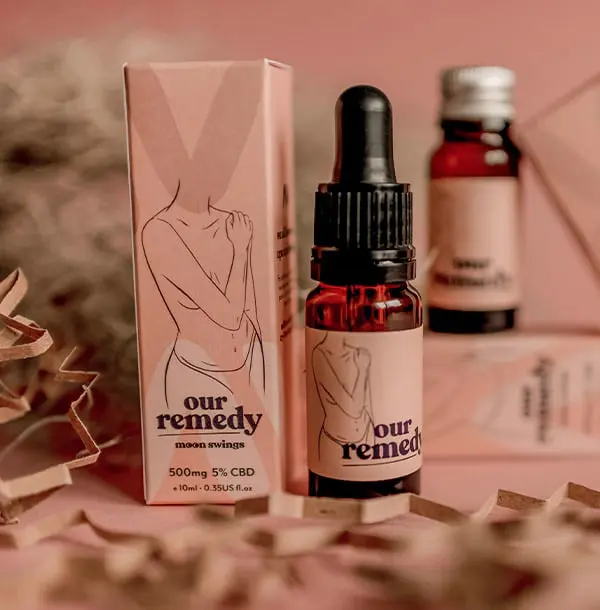 Our Remedy CBD Moon Swings
Introducing Our Remedy's hero product, Moon Swings. Teaming CBD with peppermint and clary sage not only gives this wellness elixir a wonderful and refreshing taste but it may also soothe menstrual symptoms such as period pain, mood swings, hormone imbalance, anxiety and sleep disruptions. We truly understand all of the ups and downs that our time of the month can bring…
Our Remedy CBD oil is flavoured with peppermint and clary sage, making it taste amazing. It is very simple to use too, just squeeze the dropper under your tongue for it to take effect. It tends to take around 30 minutes, however, it can take longer depending on your metabolism and other factors.
The product is ethically packaged, offering plastic-free refills. Not only that, for every full-priced bottle sold we donate to Bloody Good Period, to help tackle period poverty.
What is CBD oil?
CBD is a cannabinoid found in the cannabis plant. But don't worry, you won't be buying your loved one drugs. CBD is legal here in the UK and many parts of the world. It will not get you "high" either as it doesn't contain the psychoactive cannabinoid THC.
CBD oil is extracted from the cannabis plant into a distilled oil. There are various methods of extraction, which determines whether the product is full-spectrum, broad-spectrum or isolate. Our Remedy CBD is broad spectrum. This means that it contains 0% THC, however, it maintains some terpenes within it. Terpenes have their own therapeutic benefits and work in synergy with the cannabinoid for an added bonus.
Read more about what is CBD on our in-depth blog >>
What may CBD help women with?
PMS
Hot flashes
Low mood
Hormone balance
Hormonal headaches
If you are looking for the best gift for women this Christmas, then Our Remedy CBD is certainly one to consider. Imagine if a product you bought your loved one helped with the pain they suffer from every month or more. Definitely some brownie points there!
Need more gift ideas? Head over to MM Xmas Guide 2019 for more great gifts.