The UK has a target set by the EU to recycle at least 50% of its household waste by 2020. In 2017 it was 45.5%. However, it isn't always about recycling it in the usual fashion of popping it in the glass or cardboard bin. At Our Remedy we love turning trash into treasures. 
We've been looking at creative ways to reuse essential oil bottles, like the ones Our Remedy comes in. Have a try of some of these, or maybe you have your own ideas, just make sure you tag us on Insta so we can see your work, we are @itsourremedy.
Firstly, you'll want to get your old essential oil bottles, take all the tops off and soak just the bottles in warm soapy water, to make sure they are clean and there is no sticky residue left on them.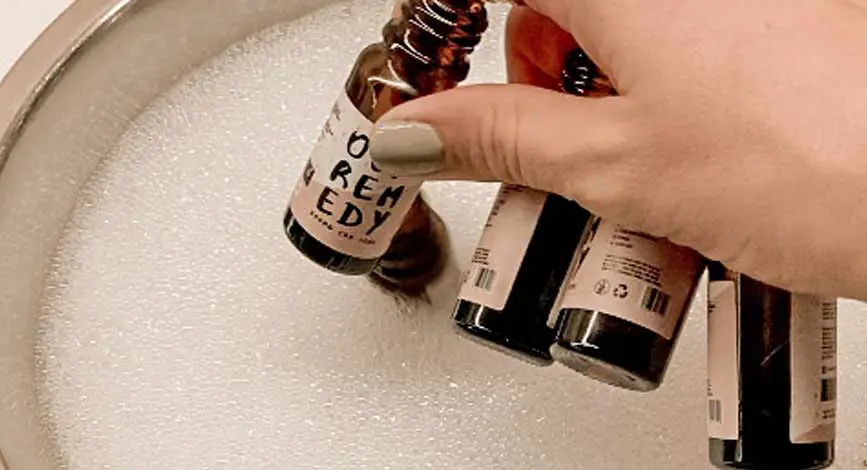 How to reuse essential oil bottles
Who really likes those scented cardboard trees? Artificial car fragrances contain hundreds of synthetic chemicals, which you and your passengers will be breathing in when you are in the confined space.
Try half filling an essential oil bottle with cotton or lava stones and then adding a few drops of your favorite oil, or just finishing off what is left in the bottle.
If you are particularly creative, you could hang it using macrame, or just a nice tie at the top and let it dangle from your mirror.
This one was made by someone on Instagram called Emily who makes these for her Etsy Shop, how cute is it!
This way to reuse essential oil bottles is so sweet. It's a decorative idea that looks great hanging in your office, bedroom or bathroom.
With either dried or fresh flowers, make an arrangement in the bottle. You then hang them from twigs, or the ceiling, with a nicely tied twine. You could always add a little of your favourite essential oil or reed diffuser fragrance in the bottles so its also acts as an air freshener around your house! As I was making these I was thinking that I could do with this hanging in my wardrobe. 
This way to reuse essential oil bottles can look so pretty dotted around your house or hung from twine in your wardrobe. Simply, fill an essential oil bottle with your favorite diffuser fluid, add a few bamboo skewers and there you have a DIY diffuser.
10ml bottles are ideal to take travelling without having to take your large cleansers, toners and other beauty products. Perfect if you are going on a plane too as these can go in your clear bag ready for airport security. 
You could fill them up with:
Facial toner

Cleanser

Moisturiser 

Shampoo and conditioner

Homemade dry shampoo

Makeup remover 
Do you have any creative ways to reuse essential oil bottles? Drop us a message or tag us in your creation on Insta @itsourremedy